Indi™ Home Microfibre Filter
Tax included
Shipping calculated at checkout
INCLUDED
1 x Indi™ Filter Unit
1 x Filter Cartridge
1 x Wastewater Pipe
2 x Jubilee Clips
2 x AA Batteries
1 x Info Booklet. 
A PRODUCT NOTICE PLEASE READ BEFORE INSTALLATION

You will note that in our installation guides that the Indi™ filter unit's lid is shown utilising a metal 'scissor lift'. This meant the lid 'popped-up' and held itself in place while you changed your cartridge etc.

This has now been removed 

Your Indi™ top still opens in the same way - via the two side clasps and the front catch but the top is now completely removable.

The cartridge can still be removed and inserted in exactly the same way. This has been undertaken for 2 reasons:

1. To reduce the mixed components in the filter unit making it even more recyclable.

2. To enable you to clean inside the Ind™ filter unit as and when necessary. 

Any Questions please contact our customer service team on: customerservice@cleanerseasgroup.com
T
he most effective 
microfibre filter, capturing the tiniest microplastic particles escaping from your washing machine.
Indi™ is a super simple, affordable way to help protect the world's oceans from microplastic pollution. 

It takes 10mins to self-install Indi™ into your existing washing machine set up and then works away on the next 100 washes* when the unit will alert to change the cartridge.
Buy an Indi™ today and make your home #OceanFriendly.

* Indi™ cartridge longevity will vary depending on rate of washing, type of washing machine used and nature of fabrics and soiling. 
Features

Made from 75% recycled plastic. 
Fits any front loading washing machine set-up, providing you can access your wastewater pipe.
Low energy use. Battery powered, no mains power needed.
Lasts up to 100 washes before you need to replace the cartridge.
Super Simple 10min Self-install. See our 

INSTALLATION GUIDE

.

Captures 90% of microfibres, down to the smallest 1 micron.
Fully circular system; return your cartridges to us for FREE for recycling.
Intelligent LED warning light system.
Low noise. 

NO mess, NO fuss, NO waste to landfill.
Specification

Model Name + Number: Indi™ Home Microfibre Filter 
Materials of all component parts: Recycled ABS 
Dimensions: L: 240mm W: 220mm D: 165mm
Weight: 2.4kg
Unit weight: 2.2Kg
Filter Cartridge weight: 200g
Power usage onstandby: 2mw
Power usage per wash: 100mW
Batteries needed: 2 x AA Alkaline batteries 
Fitting method: self install
Operating system: Cleaner Seas Group™ filter quick change system
Noise/sound? / Quiet Mark: 40db
Warning light system: Yes - LED system
Water pressure: Max pressure 0.2 bar
How to Install Your Indi™.
We've designed Indi™ to be super simple to install and to run. 
Once unpacked simply fit the wastewater pipe from your washing machine to the filter and use the pipe provided to run back into your existing washing machine wastewater set up.
It really is that simple!
Watch our step-by-step guides to install.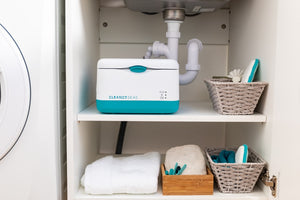 1. Under The Sink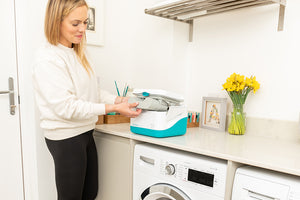 2. On The Countertop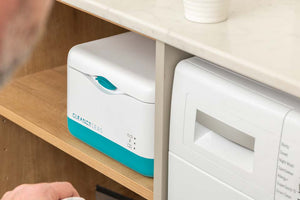 3. In The Cupboard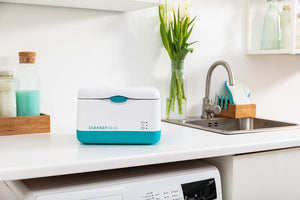 How it Works.
The Indi™ filter uses a patented, cartridge-based system to capture up to 90% of microfibres from every wash: down to the smallest 1 micron.
We believe in circularity, which is why Indi™ is not only made from recycled materials, it also employs a free, returnable cartridge system that enables us to recycle your microfibres and refurbish the cartridge over and over again.
Find out more?